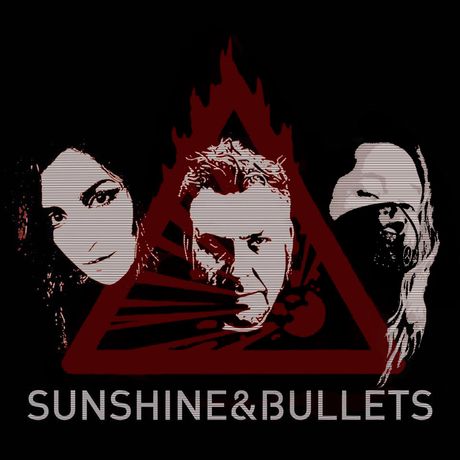 BIO
Sunshine & Bullets originally formed in 2010 in Tampa, FL as a power trio with the goal to create a large dynamic sound out of only 3 members, with both male and female vocals.
They developed their unusual blend of rock music and started booking shows, building a cult following in various cities across the U.S. and made friends around the world.
Rich Keane Jr. earned the nickname "Ginger Loko" for his red hair and wild stage antics such as playing his guitar on the floor like a piano and throwing it up in the air and catching it in time to finish a riff.
Their music ranges from dark and heavy to peaceful and ambient, with Rich Keane Jr. and Amanda Hamers both singing lead, giving them comparisons to Evanescence, Linkin Park, Chevelle, A Perfect Circle, and other alternative hard rock bands from the late 90's to early 2000's.
---
MUSIC
---
VIDEOS
---
Members
Rich Keane Jr. (Vocals/Guitar)
Amanda Hamers (Vocals/Bass)
---
They have performed at Rockwave, 97X Backyard BBQ, Ink Life Tour, Rock the Park, and Zombicon, opening for such acts as Imagine Dragons, Bret Michaels from Poison, The Used, Stone Temple Pilots (with Chester Bennington), Chevelle, Anberlin, Jane's Addiction, Filter, Helmet, Foxy Shazam, Falling In Reverse, Middle Class Rut, Civil Twilight, Saving Abel, Framing Hanley, Cinder, Days of the New, John Rzeznik of the Goo Goo Dolls, Stroke 9, Smile Empty Soul, Local H, Adema, Eye Empire, and more.
---
PRESS
"I find your band one of the most brilliant bands I heard in 28 years of radio."
"Sunshine & Bullets has done it by the book and they have a huge fan base now."  
"By the time the album closes with "The Mechanism", one of my new all time favorite instrumental tracks, it's clear that this band is destined for greatness. Not only are they experts on their respective instruments, but the vocals being traded off between the male and female voices are simply astounding."
"The tracks on this album are a perfect fit for the tv/movie industry and there's no telling how far this group will go! If you like music with balls, Sunshine & Bullets is the band for you!"
"Once in a while, if you are lucky enough, you cross paths with a few individuals who are caring, selfless, and all-around good-hearted people. These are three of those individuals, and we are honored and proud to call them friends. Take a Take a few minutes and get to know them the way we know them and see why they are taking Florida by Storm."
"They hail from Tampa Bay but their unique power blend is taking them nationwide fast . . . Sunshine and Bullets appeared on the National television show "The Daily Buzz" on the CW Network. To view the segment visit https://www.youtube.com/watch?v=aI17PP3LU8A Sunshine and Bullets is an appropriate name for a hot trio with the combined energy of Florida sunshine and explosive ammunition"
"The trio plays alternative rock that's hard but with groovy, fun-loving touches. . . elements of White Stripes-y blues, and Hamers has a warble that calls to mind Sleater-Kinney's Corin Tucker. She and Keane split the vocal duties, and they harmonize with each other throughout the set."
"Sunshine & Bullets may be changing but they are still keeping true to their brave, experimental sound and vibe. They are passionate about keeping personally connected to their fans and always have them in mind when they make changes. They were presented with the question a while back in their career; "What are you doing differently from any other band?" They stepped up to the plate and decided to accept the challenge and stand out. With unique performances, emotional songwriting, and adventurous experimentation Sunshine & Bullets will continue to blow audiences away."
"Sunshine and Bullets… who are they? Simply put, they are one of the coolest bands of all time; a rock fanatic's dream. Sunshine and Bullets brings a new sound to rock music that's itching to be heard."